If you go back and read my first post, Anticipation, you'll see that Slovenia was one of the countries I was most excited about. I wasn't really sure why, I had read that it was beautiful, the people were friendly, a sort of "hidden gem" among European destinations, but otherwise didn't know much in particular about Slovenia.
When researching for my trip I would always read these travel blogs talking about how the best part of their visit to a city was when they met someone at the grocery store or post office or wherever and got invited to their family's house for dinner, giving them such a unique local experience…but who does that really happen to, that's crazy.
Well, I arrived in Ljubljana (pronounced loo-BLEE-AH-nah) around noon on Saturday and by three I had been invited to a local couple's house for dinner that night.
Let me back up. I dropped my bag at the hostel and headed into city center just to wander around a bit. Turns out there was a wine festival going on in honor of St. Martin's Day, the day when, according to Slovenian tradition, grape juice matures into wine. There were tons of booths selling wine, local cuisine, and a lineup of traditional songs and dances going on in the main square.
I had no plans for Ljubljana except to relax and enjoy myself, so I got a glass and started making my way through the booths. I ended up at a hotel's booth that was serving a traditional St. Martin's dish turned sandwich (a roll filled with pulled duck, sauerkraut, a roasted apple slice, something crunchy, and sauerkraut based sauce, I think, it was really good):
I already had a glass of wine from somewhere else, so the guy behind the booth told me to come back when I was done to try their pinot noir, "it's on the house". Well a budget traveler doesn't turn down free wine so after finishing my duck sandwich (and chatting with a very nice Slovenian lady at the shared table who was eating the same thing) I returned for my free glass of pinot noir, which turned into a free glass of pinot grigio, which led me to be introduced to the hotel's general manager, who introduced me to his girlfriend, and I was suddenly eating dessert with them in a nearby cafe and invited to dinner at their apartment that night.
I had such a great time at Sandi and Nina's, we talked about local Slovenian culture, their love for their "kids" (horses), travelling in the Alabama swamps, Melania Trump (they still respect her sense of fashion), Sandi's experience in the Balkan War, all while eating a delicious dinner (stir fried shrimp with truffle polenta and bacon) and sipping on gin & tonics. More photo failures, but I think they'd approve of this one from facebook, especially as their kids are included, and free marketing for the hotel!:
Thank you both again so much!
It rained non-stop for the remainder of my 2.5 days in Ljubljana but I loved every bit of it just the same. The city center is the perfect size, it has a fairytale like castle on the hill, the architecture is Hapsburg era with a Mediterranean flare of colors and unique designs, tons of public park spaces, a charming river dividing the old town from the new (the Ljublijanica), a diverse food culture (I had Indian, Thai, Mediterranean, American, and Slovenian food in my time there, all delicious), and incredibly friendly people who have found the perfect balance between being humble and proud.
As always, here are some interesting facts I learned about the city:
Slovenia was the first to declare independence from Yugoslavia on June 25, 1991, resulting in a 10 day war for independence with Yugoslavia, which Slovenia dominated. This marked the beginning of the Yugoslav Wars.
Slovenia is a huge producer of wine, but they don't export much of it, with almost all of it being consumed domestically.
They are really proud of their sports. They are quick to tell you the best player on the Miami Heat is Slovenian (Goran Dragić), the world's largest ski jump is in Slovenia, the first married couple to summit Mt. Everest was Slovenian, and they have won many Olympic medals in rowing:
The university in Ljubljana, the oldest and largest in Slovenia, is free and has over 60,000 students. The city is incredibly proud of its university because they weren't allowed to have a university in the city during the Austro-Hungarian reign, as all higher education was only available in Vienna. There is currently a countdown (quite a long one at 757 days) to the 100 year anniversary of the university. The university was opened after WWI with the fall of the Austro-Hungarian empire.
Ljubljana was the European Green Capital winner in 2016 and has ambitious plans to be a zero-waste city and country. The city center used to be really congested with car traffic causing jams and air pollution, so in 2007 the city decided to make it a pedestrian only area.
Slovenia as a nation never really conquered and claimed new territory in the traditional sense, so rather than having statues of soldiers on horses all over the city, the main statue in city center is of an influential poet, France Prešeren. One of Prešeren's poems was even turned into the Slovene National Anthem. Unlike most countries' anthems which talk of how great their nation is, the Slovene anthem focuses on political and economic cooperation with its neighbors. This is really amazing as it was chosen just a few years after Slovenia declared its independence from Yugoslavia. You can see a verse from the anthem paved into the street below which translates to:
God's blessing on all nations
Who long and work for that bright day
When o'er earth's habitations
No war, no strife shall hold its sway
Who long to see
That all men free
No more shall foes, but neighbours be!
Around 50% of the city was designed/influenced by a single architect, Jože Plečnik, and the city is sometimes referred to as "Plečnik's Ljubljana". His masterpieces include the Triple Bridge, Central Market, the National and University Library, as well as several parks and plazas around the city.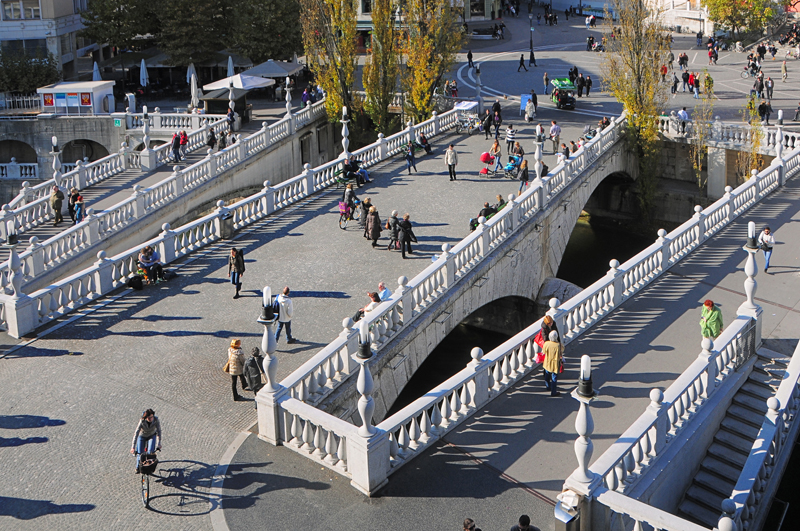 ---
After three days in Ljubljana I headed north to Bled, a town known for its picturesque Lake Bled and nearby Triglav National Park, all surrounded by the Julian Alps. My goal was to enjoy some hikes and scenery, make my own food for a few nights, catch up on sleep, and enjoy a less-touristy atmosphere, and Bled achieved all of these things.
I also did a day trip to Lake Bohinj, including the Mostnica Gorge and Savica Waterfall. The gorge is in some places up to 20 m deep and only 1 m wide, so it made for some really interesting rapids and pools. The Savica waterfall is the largest in Slovenia and was visited by Maria Theresa's grandson Archduke John of Austria in 1807 (had to add some sort of fun fact for this part of my trip).
I can say with a lot of certainty that I will be back in Slovenia some day, hopefully sooner rather than later, and I encourage everyone to add it to their next European itinerary, it's really not to be missed!
Tomorrow morning I'm off to Zagreb, Croatia!